Thursday, October 30th, 2008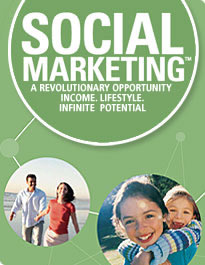 In an age where traditional sales channels are struggling, the trend in business is built around relationships. People do not want to deal with large companies where they are simply a nameless customer or number. They respond to trust and they want personalized service.
"Direct selling", "multi-level marketing", and "network marketing" are all examples of rapidly growing business models that are taking advantage of these trends. But, unfortunately, these terms are often misunderstood and confusing to many people, and some companies have developed negative reputations around them.
Shaklee stands out from these other companies in many ways, and now we have new way to describe our business model: Social Marketing. And, since Shaklee is trademarking this term, only Shaklee can use it!

Social Marketing fits well with another exploding trend: social networking. The Internet has unleashed a new way for people to connect with each other, with popular sites like Facebook and MySpace attracting millions of users worldwide. Social Marketing is just like this, except that people are rewarded for sharing health and the ability to earn income with their friends and family.
Think Facebook for entrepreneurs with a conscience!
So, when describing Shaklee's business model use the phrase "Social Marketing". It's a positive concept that people will easily grasp. And, it's unique to Shaklee!
For more information about Social Marketing visit here: http://www.shaklee.com/company-opp-social.shtml