Sharing an Incredible Product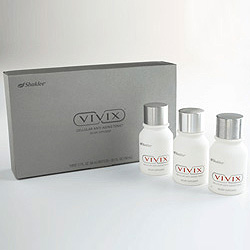 In recent posts we outlined key points related to Vivix, including the research behind it and its unique qualities. (By the way, you can access this material anytime on our blog: http://blog.mornature.com). Vivix is obviously an advanced health product that is ground-breaking in terms of its technology and implications on human health. But, how do you effectively share this product? Here are some tips:
1. A Solution people are looking for. While Vivix itself is a new product, it represents something people are looking for. There is a strong desire to be as healthy as possible, and therefore to live longer and feel younger. Vivix addresses a real consumer desire.
2. Focus on the Science. With so many gimmicks and fads on the market it is easy to understand how some people might be a little skeptical at first. Certainly we must avoid making wild claims and promises, but there is considerable scientific research that we can share. In addition to an attractive brochure that is available, Shaklee also has an Anti-Aging Research Bulletin available for purchase or download that summarizes the latest science. An excellent Product Bulletin is also available for download. For those desiring third-party confirmation check out one of our previous posts where links were given to news articles and video clips (including one by Barbara Walters) with Dr. David Sinclair of the Harvard Medical School.
3. Don't compare with "Fruit Drink" supplements. In recent years several companies have been hyping antioxidant fruit juice drinks. Sadly these over-priced juices are largely gimmicks, with little or no real scientific research behind them. Some people may want to place Vivix in the same category. This is not the case. On its own Vivix is a very powerful antioxidant (many times more potent than these fruit drinks) but this is not what Vivix is all about. Vivix is a cellular anti-aging supplement that addresses all four key mechanisms related to cellular aging, something these fruit drinks do not touch. And there are over 2000 published studies on these compounds confirming these effects. For your convenience Shaklee has produced a comparison chart to contrast Vivix with these juice products.
4. Encourage Auto-Ship. Shaklee has provided a number of incentives to encourage regular use of this and other Shaklee core nutritional products. When you purchase Vivix in Autoship (either by itself, in combination with Vitalizer, or as part of one of the new Rx for a Healthier Life packs) you save 10%. Results from nutritional supplements are seen with regular usage, so here is a way to get the best results and save money at the same time!
5. Note the new earnings opportunity. We will provide more details on this soon, but with Vivix Shaklee has introduced an innovative new compensation system (called Tru-Infinity) just for Vivix sales. Sharing Vivix with others provides a tremendous opportunity for you to earn extra income and build a thriving Shaklee business.
Vivix is available NOW in the U.S. (although, please note that IPV for Vivix will not be applied until September)
Vivix will be available in Canada on September 1st.